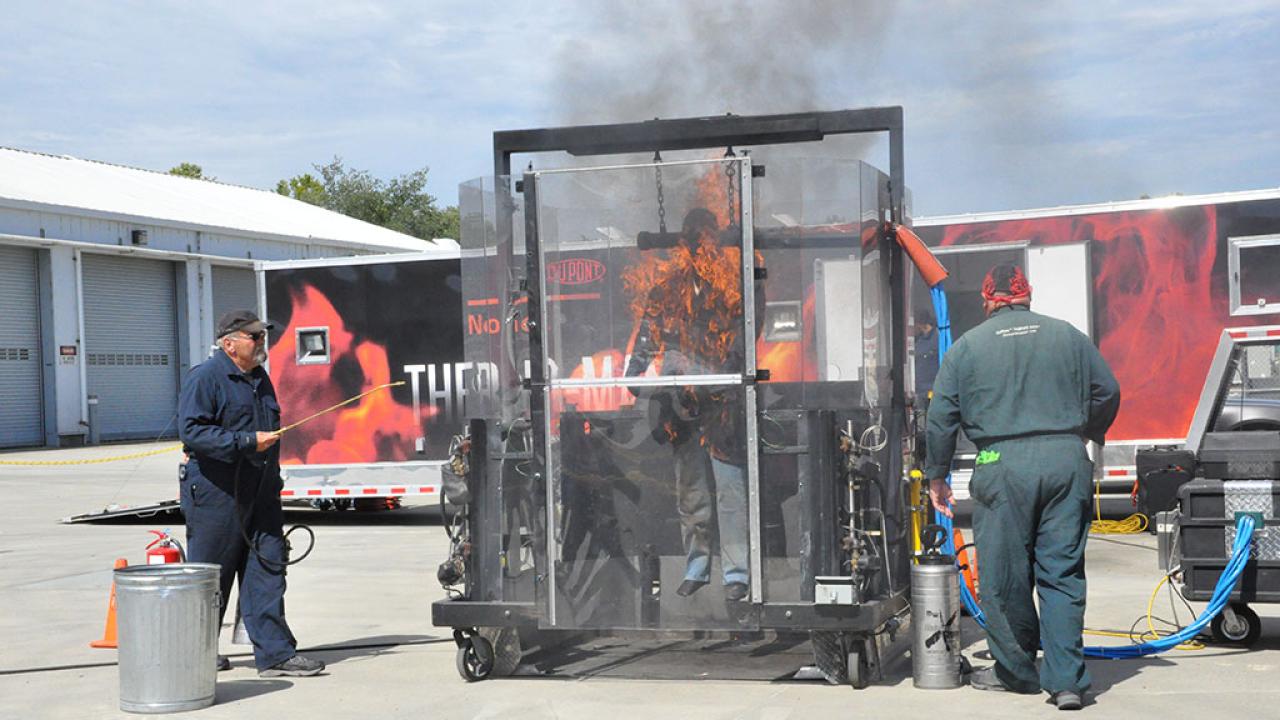 By Crystal Ross O'Hara
In the last two years, thousands of flame-resistant lab coats have been distributed to UC lab workers. At a demonstration held last month at UC Davis, some of those lab workers got to see just how important those lab coats really are.
Using a mannequin fitted with dozens of sensors, a crew from DuPont demonstrated what can happen to a lab worker during a flash fire, depending on what type of protective gear they're wearing. DuPont manufactures the Nomex material used in the flame-resistant coats distributed by the university.
Safety Services is the unit at UC Davis that supports the research community in the safe operation of close to 3,000 laboratories by 850 principal investigators on campus. Safety Services, a unit of the Office of the Vice Chancellor and Chief Financial Officer, arranged for the demonstration to show researchers just how vital proper protective equipment is to their safety.
Representatives from several UC campuses, fire organizations and the UC Office of the President attended the demonstration, held at the Environmental Services Facility on the west campus. The DuPont crew began by outfitting the mannequin, known as Thermo-Man, with a plain white T-shirt and denim jeans.
Thermo-Man is mounted in a glass box which crew members can safely ignite with propane, allowing spectators to see what can happen in a flash fire situation.
In the first demonstration, the crew placed a simple cotton lab coat over Thermo-Man's clothes. After watching the crew set the mannequin on fire and extinguish it just three seconds later, DuPont's Jeff Fackler showed attendees a computer image generated by sensors in the mannequin. The graph displays what areas of its body would be burned and how much of the burn would be considered second- or third-degree burns.
Most of the cotton lab coat burned away, burning through the mannequin's T-shirt and resulting in 56% of the body being burned, 43% of which would be third-degree burns.
"Lab coats can become the hazard because once the flash fire is gone, that garment will continue to burn," Fackler explained.
Under the same conditions, the results for the 65% polyester/35% cotton lab coat were worse. In that case, Thermo-Man indicated 58% body burns, of which 42% were third-degree burns, a situation likely to result in death. All that remained of the coat, jeans and T-shirt was a pile of charred shreds.
UC lab workers conducting research where fire is a hazard receive Nomex Workrite National Fire Protection Association-certified flame-resistant coats, which cost the university about $112 each and can last about five years.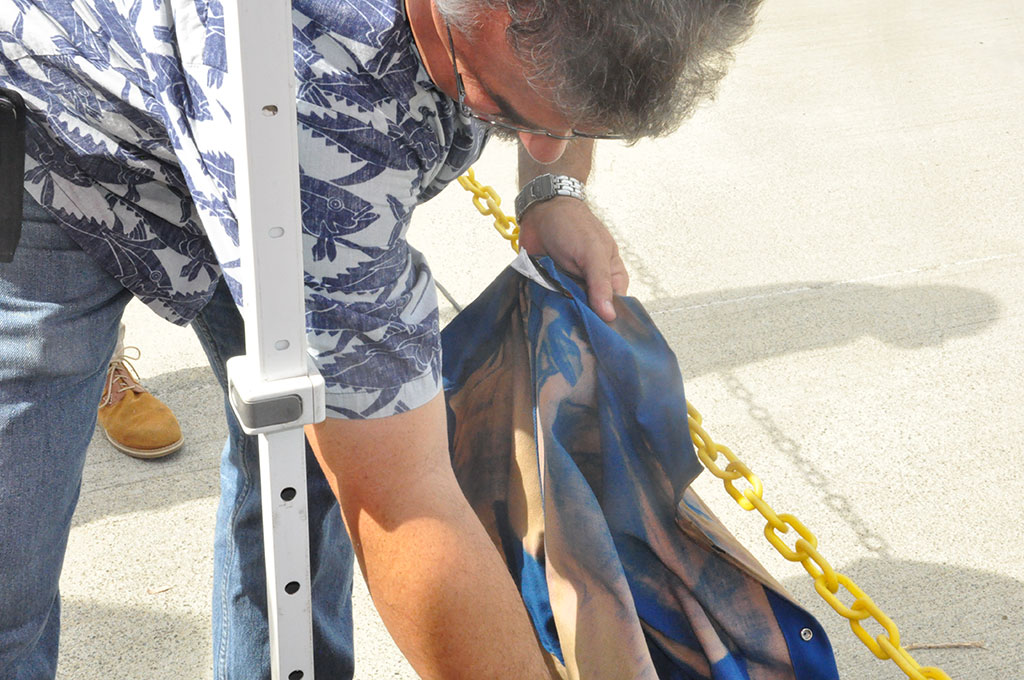 When set ablaze, the university-issued lab coat was visibly different.
The coat extinguished more quickly and remained mostly intact, although much of the coat's blue dye melted off. Thermo-Man's sensors indicated 13% body burns, with 7% being third-degree burns.
Andrew Majewski, health and safety manager at UC Davis, said the demonstration was a valuable experience. "The ability to see the actual amount of burn injury was very interesting," he said. "I think it made an impact."
Prior to 2013, UC lab workers commonly wore cotton or cotton-polyester lab coats, said Chris Jakober, chemical hygiene officer at UC Davis. "Oftentimes in most labs you were given a hand-me-down that may or may not have fit," he said.
Principal investigators and lab workers now use an online application called LHAT (Laboratory Hazard Assessment Tool) to determine what Personal Protective Equipment should be used in their specific lab setting. Once that has been determined, they are fitted for and provided with the appropriate lab coat, along with whatever protective eyewear, gloves or aprons they may need.
To learn more about Nomex and view demonstration videos, visit DuPont's Thermo-Man video page.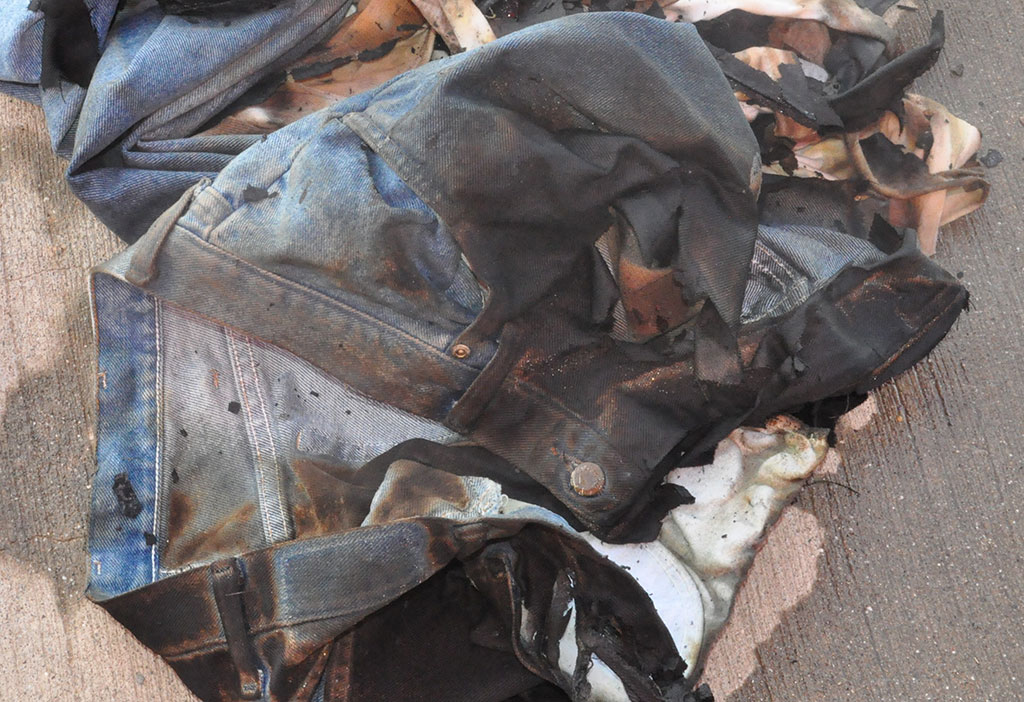 Related Links
---
Crystal Ross O'Hara is a lead communications analyst with IT Services at UC Davis. IT Services supports Safety Services in its efforts to encourage a culture of safety in campus teaching and research. Safety Services is a unit of the Office of the Vice Chancellor and Chief Financial Officer.
Category